Fragments of millennial history are now in the hands of the restoration laboratory specialist.  Nowadays items found in 1989-1991 in the territory of the "Demer" burial ground, in village Nerkin Getashen, Gegharkunik region, are being cleaned, fixed and restored in the museum items restoration laboratory of the "Protection Service" SNCO. There are more than 500 items, such as pottery, bronze pendants, bracelets, as well as glass and seashell beads. The items are kept in the archaeological stock of the SNCO. 10 units of different objects found in fragments in the burial ground of Nerkin Getashen are now being restored. First they were washed and cleaned one by one, and then the work of restoration was started.
Anna Baghdasaryan – restoration laboratory specialist of the "Protection Service" SNCO
"Just trying to give you an idea of what we do, I should state that sometimes we have to work for months for example to restore a clay jug, because sometimes it happens that some part is missing or the clay is not firmly attached and so on, whereas we have to restore it just the way it was thousands of years ago".
3 complete and 2 incomplete clay vessels out of 10 have been restored up to now, the rest of them are still being fixed and the missing parts of the archaeological materials are filled with gypsum.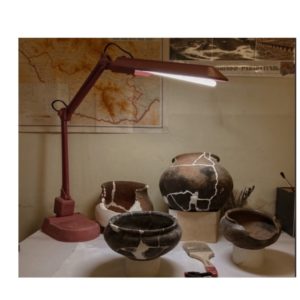 The complexes excavated in the burial ground of Nerkin Getashen refer to XXII/XXI-VIII/VII cc BC and testify that they were used continuously for about 1500 years. The excavated materials include artecrafts of Trekhk-Vanadzor (XXII-XIX cc BC), Sevan-Artsakh (XIX/XVII-XVI cc BC), Lchashen-Metsamor (XV-IX cc BC) and the period of the Kingdom of Van (VIII-VII cc BC). Excavations were carried out in the territory of the burial ground of Nerkin Getashen in different periods. Ervand Lalayan was the first to carry out excavations there in 1905-1906. In the 1960s archaeologist Gedeon Mikaelyan continued the excavations. About forty stone-box graves and earthen tombs in which individual and group burials are found were excavated by the expedition of New Construction Groups of the Institute of Archaeology and Ethnography NAS RA (head of the archaeological expedition Ashot Piliposyan).
Ashot Piliposyan – secretary scientist of the "Protection Service" SNCO
"The study of archaeological materials found in the burial ground in the territory of Nerkin Getashen proves that representatives of social elite were buried here and in the same burial chamber, together with the main deceased, a group of people were found, including men, women and children of different ages, who were sacrificed to accompany the master to the underworld".