"Amberd Amrots" Historical and Cultural Reserve will be open again from 20.04.2023. At present preparations are being made in the territory of the reserve.
Dear visitors, we would like to warn you that on the right side of the road leading to the fortress, there is a landslide due to the snowmelt. Currently restoration work is being carried out to make the road safe and give it the previous appearance by the "Service for the Protection of Historical Environment and Cultural Museum-Reservations" SNCO of the RA Ministry of Education, Science, Culture and Sports.
Dear visitors, we urge you to be cautious in that area!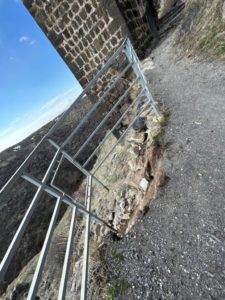 "Amberd Amrots" fortress-city is located 7 km northwest from the village Byurakan of the region Ashtarak (Aragatsotn Marz, Armenia) on the southern slopes of Mount Aragats, at the confluence of the Arkashen and Amberd rivers, on a triangular promontory. The site of the fortress was chosen according to the principles of castle construction typical of ancient and medieval Armenia. The entire fortress-city is situated on the triangular promontory with an area of 5 hectares which is surrounded by steep ravines on three sides.
Visiting Amberd you will see the following architectural structures: the citadel or the princely castle, the entrance and the walls of the castle, the gates of Arkashen and Amberdadzor, the church Katoghike Vahramashen (1026), the chapel, the oil mill, the drinking water network and the cisterns, the bath (X-XI cc.), the secret passages and other structures inside the fortress.
According to excavations and historical-archeological studies Amberd dates back to the X-XIII centuries.