Vasakaberd Fortress dates back to the V century. It was once described by ethnographer Y. Lalayan without mentioning its name. According to his testimony, the fortress was located on the top of the hill and had two walls. There was a pool on the top of the fort the water of which came from the nearby southern mountains because the pipes were in that direction. Traces of houses could be found both around the fort and inside it. Urns full of human bones were found on the northern slopes of the fort, on the bank of the river. It is noteworthy that the pot burials indicate the earlier history of the fort.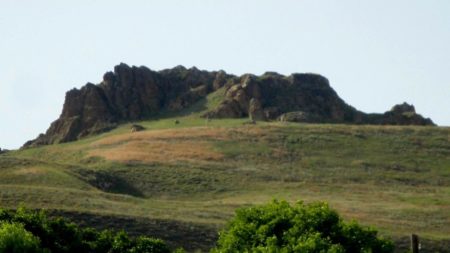 This ancient site is also known under the names "Vasakashat", Vasakakert" (it was mentioned in the province Tsghukq, on the old list of the villages paying taxes to Tatev Monastery (X c.)), "Sisakan Berd" and "Sisiani Berd".
In connection with the visit of the Armenian Mushe Catholicos to Syunik, St. Orbelian mentioned the throne center of the region in the site of "Kits Vtakats", which corresponds to the geographical location of Vasakaberd.
It is supposed that Vasakashat was the fortress city of the Armenian governor Vasak Syuni (V c.). According to historian Yeghishe, Armenian ministers captured Vasakashat during the Vartanats Battle. This fact is also testified by Armenian philologist and geographer Ghukas Inchichyan.
The presence of many fragments of glazed pottery and glass vessels in the territory of the fortress is an important detail related to the history of its medieval period.
According to historian Morus Hasratyan they are similar to the materials found in the territories of Ani, Dvin, Nakhijevan and Rey and testify to its trade relations during the kingdom of Ani and the period of Mongol domination.